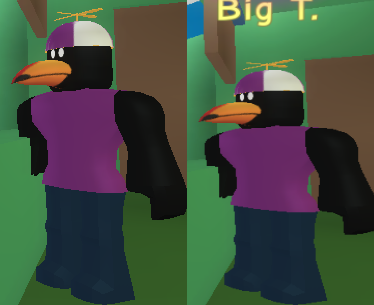 Big T. Is an NPC that appears in Frogville. He was added in Beta 1.2.0 and sells gears, ranging from decent to super.
Gears Sold
A list of Gears that Big T. sells:
Normal Shirts (Decent)
Normal Pants (Decent)
Caps (Decent)
Eyepatches (Decent)
Glasses (Decent)
Fedoras (Decent)
Bandanas (Decent)
Fancy 'Stache (Decent)
Viking Helms (Nice)
Scarves (Nice)
Cloaks (Nice) 
Vibrant Shirts (Super)
Crowns (Super) 
Fiery Aura (Fantastic) 
Community content is available under
CC-BY-SA
unless otherwise noted.