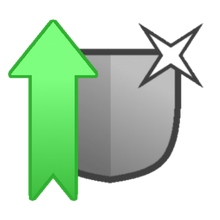 Overview
Defense Up (also known as Armored), is a status effect inflicted by skills that enhance armor.
Defense Up increases the player's defense by a certain amount for a certain amount of turns. The number on the left of the status indicator is the defense added. The number on the right is the number of turns the upgrade will last until it ends.
Defense up can lessen the damage you take by making it weaker. With
Defense up, your base defense goes up, and if your base defense is high enough, you can avoid attacks like Shoplift's stealing ability. Abilities like Ice Armor for the player will stack and increase it's duration when used more than once.
Sources
Source

Inflicted Status
Duration
Chance

Items

BBQ Sauce
Defense Up-2
3 Turns
1/1
(100%)

Player Skills

Ice Armor
Defense Up-3
4 Turns
1/1
(100%)

Enemy Skills

Golem
(Stone Guard)
Defense Up-4
1 Turn
1/1
(100%)
3 Snowman
(Purple Ice Armor)
Defense Up-3
4 Turns
1/1
(100%)
Notes
Community content is available under
CC-BY-SA
unless otherwise noted.