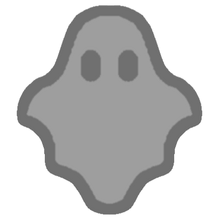 Overview

Spectral is a status effect that makes the user intangible.
Targets with the

Spectral status makes all attacks against the target miss, essentially making the target immune to all attacks. Once the status has lapsed, the target will receive the

Solid status for 3 turns, which prevents the target from being

Spectral.
It is only acquired by using Spectral Soda. Additional instances of

Spectral will not stack on the duration.
Sources
Source

Inflicted Status
Duration
Chance

Items

Spectral Soda
Spectral
2 Turns
1/1
(100%)
Notes
While Spectral, you can still take damage from status effects and Earthquake.

You can get the Poison Status from Poison Spray even while Spectral.
Community content is available under
CC-BY-SA
unless otherwise noted.