Overview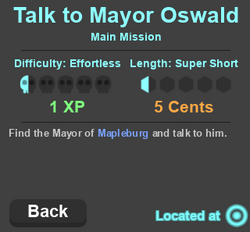 The Talk to Mayor Oswald Main Mission is automatically started from the beginning of the game. The player is tasked to talk to Mayor Oswald in one of the buildings of Mapleburg.
Afterwards, Oswald will task the player to defeat some Bandits.
Missions
Total rewards of missions:

8 XP;

20 Cents
Progression
Talk to Mayor Oswald (Initial Mission)
Community content is available under
CC-BY-SA
unless otherwise noted.